Introducing VITUS® SPIRULINA 550g Vegan Powder in a 100% home compostable pouch!
MEET THE NEW DYNAMIC DUO, WORKING TOGETHER FOR A SUSTAINABLE FUTURE.
Introducing VITUS® SPIRULINA 550g Vegan Powder in a 100% home compostable pouch!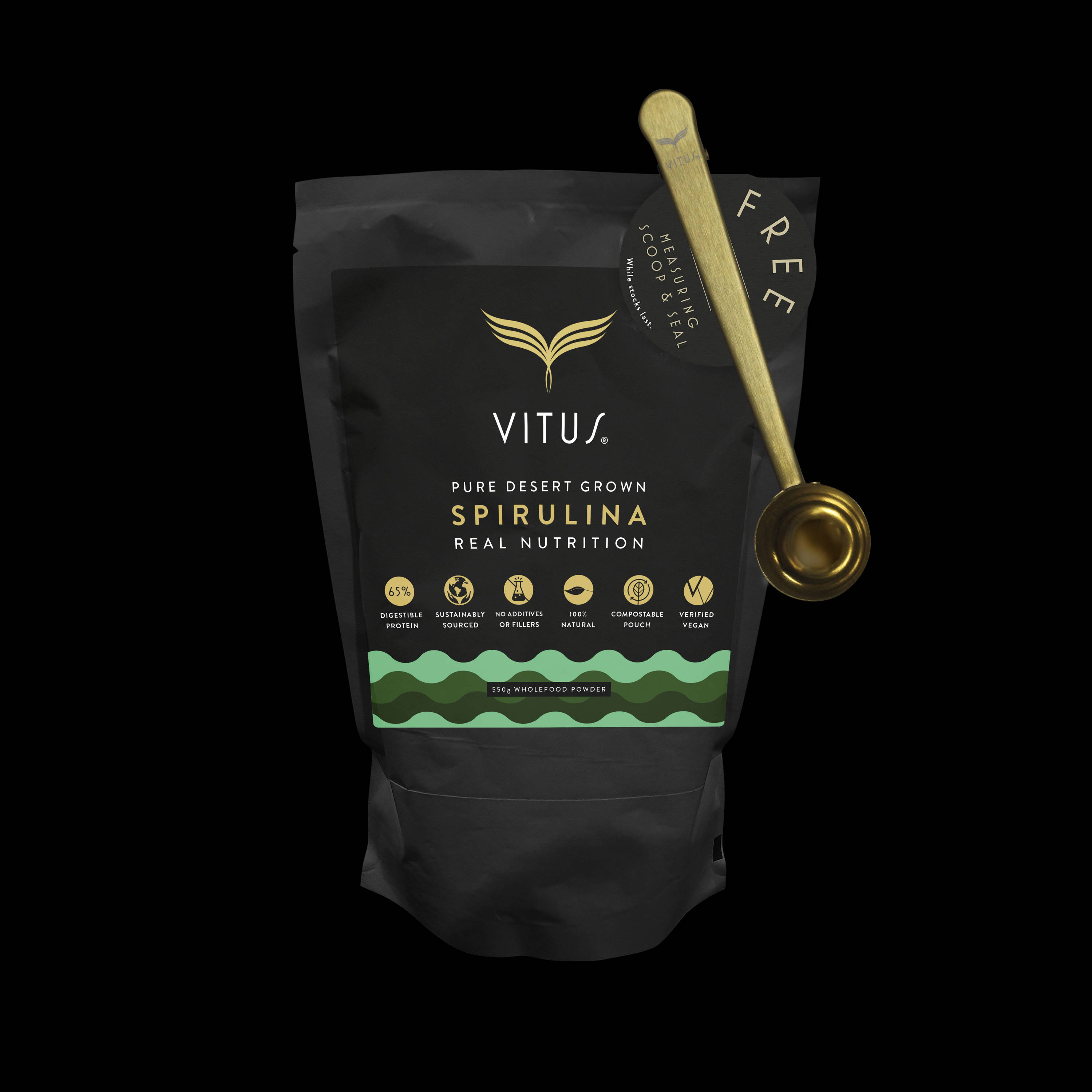 While local councils have been trying to improve our recycling habits by flogging us various coloured bins, all with different purposes and making us feel like we all have our own personal team of power rangers, our team at VITUS has always been a step ahead with our 100% home compostable pouches. 
Back in October 2019, we released our first product packaged in a compostable pouch with VITUS® VEGAN PROTEIN, which became an overnight hit! People were no longer worried about their carbon footprint with these revolutionary pouches. So we thought, why not incorporate the pouch with other products?
Fast track to today and we've come to the market with a revamped product bundle - meet the new larger size SPIRULUNA 550g Powder, in our 100% home compostable pouch!
Just like our products, these pouches are natural and sustainable, as well as being Vincotte Certified - meaning that you'll have absolutely no problem adding this pouch in with the rest of your home compost.
These pouches only take 26 weeks to COMPLETELY disintegrate! The secret behind this is its materials. Made using a mixture of components that are predominantly from the Eucalyptus Tree, this pouch is pure Aussie.
And further to that, with every tree that we use to make these pouches, another is planted in its place - talk about full circle.
As for the Spirulina, it's still that same old amazing product, which allows you to add it to all your favourite meals and drinks!
VITUS

®

 SPIRULINA 

is a multi-faceted wholefood that:
Helps improve energy levels, vitality and stamina
Contains over 65% protein and vitamins, minerals, fatty acids, phytonutrients and antioxidants
Is perfect for athletes, amateurs or professionals
Is great for Mothers before, during and after pregnancy
Enhances immune systems
Is a safe, bioavailable source of iron
Assists people facing daily stressors and pressure
Discover the new dynamic duo today.